Multi-function mid-frequency magnetic sputtering coating equipment
Multi-function Midfrequency Magnetic sputtering Coating Equipment
Product Model: ZP-
Product category:Multi-function Midfrequency Magnetic sputtering Coating Equipment
Product Details
Product Properties
This machine is mainly used for variety of metal film, alloy film and compound film, super hard wear resistant film, anti-corrosion film, decorative film (gold, silver, black, blue, green,etc.).Multilayer composite films can be coateded working with magnetron sputtering together.
Suitable for hardware, glass handicraft, ceramic handicraft, such as watch, mobile phone metal shell, sanitary ware, mold, electronic products, crystal glass, spectacle frame, tableware, cutlery, etc.In recent years, the arc ion coating technology has been greatly developed, from the original single arc source to the cylinder arc, large plane arc.Moreover, the combination with the medium-frequency magnetron sputtering technology makes the equipment suitable for a more wide range of applications, such as the hard coating or the more smooth fine decorative coating.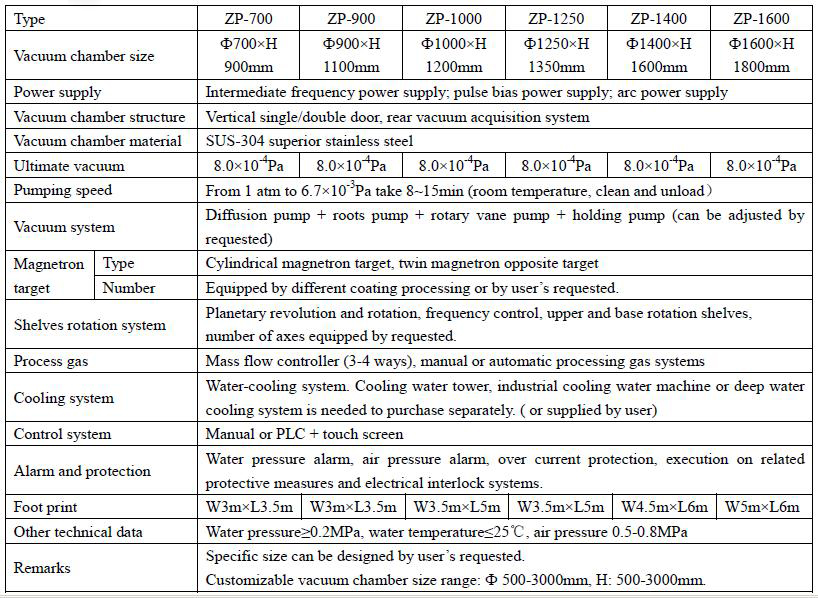 TEL:+86 0532-67722937 +86 15335326363
FAX: +86 0532-68960800
EMAI:
ADD: 01 Xiaoxin Industrial Park, Daxin Town, Jimo, Qingdao, China 266200
© 2018 Qingdao UBU Vacuum Equipments Corp.,Ltd.