Multi-arc ion vacuum coating machine
Vacuum multi-arc ion coating Machine
Product Model: LZ-
Product category: Multi-arc ion vacuum coating machine
Product Details
Product Properties
Product Profile

Vacuum multiarc ion coating machine is a hightech environmental friendly product for metal, glass and ceramic products surface
coating.After coating by this machine can improve the workpieces' hardness, wear resistance, corrosion resistance etc.. The machine
itself has many advantages such as quick pumping speed, stable vacuum environment, large load capacity and uniform coating film.
Application industry including the watch industry (strap, case, dial), glass ceramics industry (glass tableware, ceramic crafts), hardware
industry (sanitary ware, door knobs, locks), architecture industry (stainless steel plate, stair railings, columns), precision mold industry
(standard punch mold, forming mold), tools industry (drill bits, carbide cutters, broaches, shaving heads), automotive industry (piston,
piston rings, alloy wheels) as well as pens and glasses etc.. The film makes the product's surface more beautiful and more wearable.
Technical Specification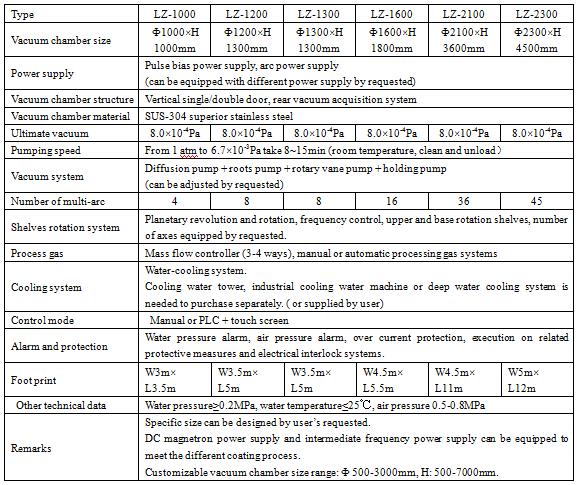 TEL:+86 0532-67722937 +86 15335326363
FAX: +86 0532-68960800
EMAI:
ADD: 01 Xiaoxin Industrial Park, Daxin Town, Jimo, Qingdao, China 266200
© 2018 Qingdao UBU Vacuum Equipments Corp.,Ltd.